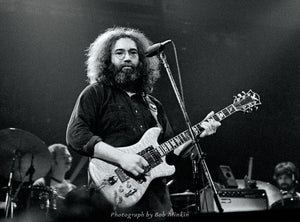 Jerry Garcia - Grateful Dead - Winterland, San Francisco, CA - 12.29.77
Regular price
$150.00
$0.00
Unit price
per
Something about the Grateful Dead instilled in me a sense of "anything is possible".
I was 18 years old and ready for another adventure! I took a Greyhound solo from Brooklyn to San Francisco to see my first Grateful Dead New Year's run and West Coast Dead shows.
I lost my wallet as soon as I arrived in the bus terminal with not only all my money, but my tickets to the three sold out Winterland shows! The ounce of Thai Stick I had with me helped, as did the kindness of stangers, but not really were they strangers as they were fellow Deadheads.
Disaster narrowly diverted...
A long story, but it all worked out and there I was in Winterland at the rail!!
It was easy to get up front at this g.a. show, people were so cool: "He's got a camera — let him up!' I had to be close to take photographs, I only had a 50mm lens on my new 35mm film camera, a Minolta SRT101.
Jerry Garcia was already onstage, tuning up, with his button shirt, sleeves rolled up, and I could tell by his notes that the opener was going to be 'Jack Straw.'
At this point he looked directly at me. I paused, sort of mesmerized for a second. He looked so iconic and I pressed the shutter to capture this image.
Print will be hand-signed by Bob Minkin.
---
Share this Product
---