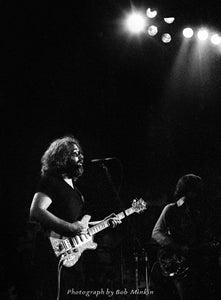 Jerry Garcia - Grateful Dead - Broome County Arena, Binghamton, NY - 11.6.77
Regular price
$150.00
$0.00
Unit price
per
Maybe the best one that I ever saw—capping off a great weekend of upstate NY Dead!
After a scenic drive through the Finger Lakes region from Rochester, the scene of the previous night's debauchery, we arrived in Binghamton.
The old adage, "never miss a Sunday show" was never more true here. This gig was full of superlatives, a sweet Dupree's, a beautiful, beautiful Sunrise, incredible Wharf Rat and St. Stephen and the monster Truckin' to close the show. If you haven't heard that Truckin', you're in for a treat!
I managed to mush my way up to the stage, and took some photos including this evocative shot of Jerry in dramatic lighting.
Big props to my friend Cliff, who did the epic 3-1/2 hour drive home after the show so we can all be in work or school that hazy Monday morning in 1977.
Print will be hand-signed by Bob Minkin.
---
Share this Product
---